This is a traditional recipe from Liguria.
Pasta with pesto Genovese is a simple to prepare delicious first course. You can serve it with some pecorino Sardo, pine nuts and a few fresh basil leaves. This pasta is creamy and tasty, and it's always enjoyed by everyone. 
Ingredients for 4/5 people
Try these pasta shapes:
You can also try 100% semolina pasta, whole-grain pasta or egg pasta.
Method:
The traditional recipe calls for potatoes and green beans for a more nutritious version; however the lighter version without these ingredients is also very popular. If you would like to use these ingredients, peel and chop the potatoes into small cubes and cut the beans into 2cm long pieces, boil the vegetables in salted water and leave them aside. In a pan, slowly heat up the pesto, adding some pasta water until you obtain a smooth and creamy mixture. Once the pasta is ready and 'al dente', drain it and mix it in with the pesto in the pan, add the potatoes and beans. Serve with grated pecorino Sardo, a few fresh basil leaves and some pine nuts.
Your 'pasta fresca' with Pesto Genovese is ready
Buon Appetito!!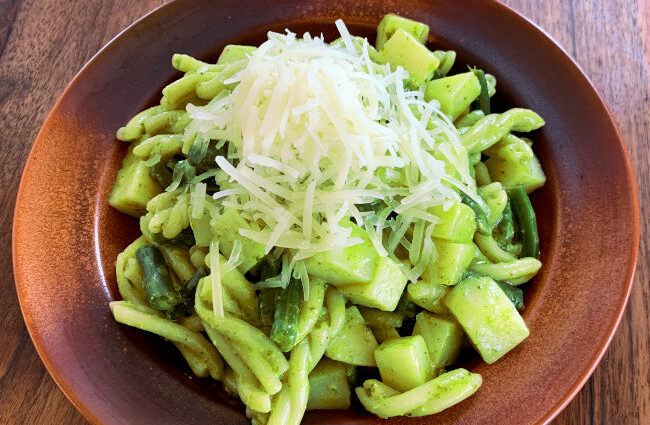 Caserecci with Genovese Pesto Rawpasta