A typical Italian recipe from Sicily 
Pasta 'alla Norma' is a delicious first course, it is a staple of Sicilian cuisine, and it is known and loved around the world. The sauce is made with tomatoes, fried aubergine, salted ricotta, and fresh basil.
Ingredients for 4/5 people
Try these pasta shapes:
You can also try 100% semolina pasta, whole-grain pasta or egg pasta.
Method:
Cut the aubergine into thin slices, fry them in a large pan with plenty of oil that should be boiling. Once fried, pat them dry with a paper towel. 
Peel the garlic cloves and lightly crush them. Gently fry them in the oil. Once you add the tomato sauce remove the garlic cloves.
Cook the fresh pasta in a large pot of salted boiling water until it is 'al dente'.
Drain the pasta and keep some pasta water aside. Place the pasta in the pan with the tomato sauce and sauté by adding a few ladles of pasta water and stirring. Turn off the heat and add your fried aubergine, complete by adding grated salted ricotta and fresh basil.
Your 'pasta fresca' with 'alla Norma' sauce is ready.
Buon Appetito!!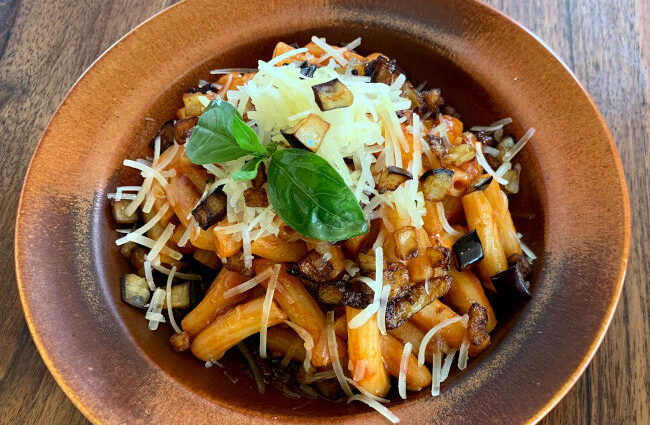 Macaroni "alla Norma" Rawpasta