This recipe originates from Abruzzo in Italy.
For this pasta to be authentic, the sauce must have guanciale in it. There are many different takes on the recipe; some don't use onion or garlic, and other substitute chili peppers for pepper, but the guanciale is essential. The original recipe calls for spaghettoni as a pasta shape, but you can also try it with short kinds of pasta such as maccheroni, fusilli, trottole, and radiatori.
Ingredients for 4/5 people
Try these pasta shapes:
You can also try 100% semolina pasta, whole-grain pasta or egg pasta.
Method:
Put a small amount of olive oil in a cold pan and add the chili pepper, garlic, and guanciale which should be chopped. Lightly fry on a low flame until the guanciale fat becomes transparent. Blend with the white wine. Remove the guanciale from the pan and keep it aside. Put the tomato sauce in the same pan the guanciale was cooking in and heat for a few minutes.
In the meanwhile, cook the pasta in a pot of salted boiling water until it is 'al dente'. Drain the pasta and keep some of the water it cooked in. Add the pasta to the sauce and sauté with a few ladles of pasta water. Once the pasta and the sauce are amalgamated, remove the pan from the flame and add the guanciale and grated pecorino and sauté until it is all mixed.
Your 'pasta fresca' with 'Amatriciana' sauce is ready to eat! You can add some extra pecorino on top if you like.
Buon Appetito!!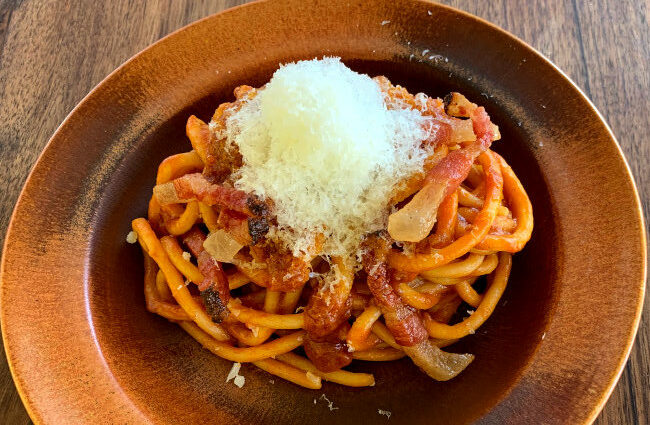 Spaghettoni all'Amatriciana Rawpasta