If you would like to change up the recipe, you could substitute broccoli for green or white Roman cauliflower, the pasta will be great in any case. 
Ingredients for 4/5 people
500 gr Fresh Pasta

2/3 medium-sized broccoli or 1 cauliflower
300/400 gr sausage (fresh not smoked)
Garlic
Chili pepper

 

Balck pepper
Parmigiano Reggiano or Grana Padano

 

RawPasta Extra Virgin Olive Oil to taste
Try these pasta shapes:
You can also try 100% semolina pasta, whole-grain pasta or egg pasta.
Method:
Cook the sausage in a pan with some extra virgin olive oil on a high flame, add a crushed garlic clove and the chili pepper and cook until the sausage is crispy. Clean the broccoli or cauliflower and cut the stalks and leaves into small pieces and leave the head whole. Cook the pasta and the vegetables in a large pot of salted boiling water. Drain the vegetables and  pasta once it is 'al dente', keep some pasta water aside. Place the vegetables and the pasta in the pan with the sausage and cook by adding a few ladles of pasta water and mixing. Serve with a generous amount of grated Parmigiano Reggiano or Grana Padano and some black pepper. 
Your 'Pasta Fresca' with Sausage and Broccoli is ready.
Buon Appetito!!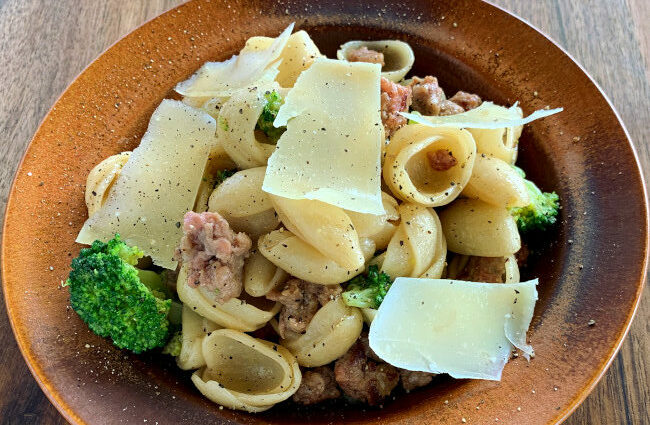 Orecchiette with Sausage and Broccoli 
Rawpasta