Fresh pasta with butter and anchovy sauce is an incredibly simple yet delicious recipe. It combines the sweetness of butter with the salty and strong taste of anchovies. 
Ingredients for 4/5 people
500 gr Fresh Pasta

100/ 150 gr anchovy fillets in olive oil
100/ 150 gr butter
Half a cup of fresh cream
Oregano to taste
Lemon to taste
Try these pasta shapes:
You can also try 100% semolina pasta, whole-grain pasta or egg pasta.
Method:
Melt the butter and anchovies in a pan on a low flame until the anchovies have melted, add the fresh cream and let the sauce thicken.
Cook the pasta in a large pot of salted boiling water until it is 'al dente'. Keep some pasta water. Add the drained pasta to the pan with the sauce and add a few ladles of pasta water, keep on mixing as it cooks. Serve with some oregano and a small amount of grated lemon rind. 
Your 'pasta fresca' with Butter and Anchovy sauce is ready.
Buon Appetito!!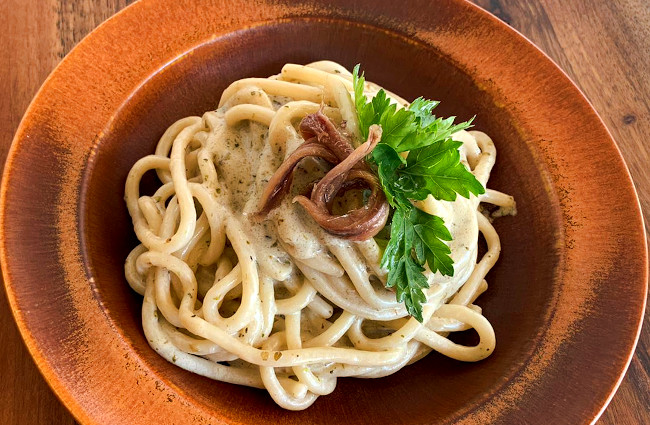 Spaghettoni with Butter and Anchovy Sauce
Rawpasta