This recipe brings together the sweet flavor of courgettes with the spicy notes of spring onion and the tanginess of the olives. This pasta is light and tasty, ideal for summer lunches with friends.
Ingredients for 4/5 people
500 gr Fresh Pasta

4/5 medium-sized courgettes
3/4 fresh spring onions
150 gr pitted olives
Parsley, mint and basil to taste
Grana Padano or Parmigiano Reggiano to taste
RawPasta Extra Virgin Olive Oil to taste
Try these pasta shapes:
You can also try 100% semolina pasta, whole-grain pasta or egg pasta.
Method:
Cut the courgette and the spring onion into very thin slices, chop the olives. Place the vegetables in a bowl with some extra virgin olive oil, mix it all, cover the bowl and leave aside. Cook the pasta in a large pot of salted boiling water. Drain the pasta when it is 'al dente' and cool it down with some cold water. Put the pasta in the bowl with the vegetables and add some more olive oil, and mix. You can also add some vinegar if you would like. Serve with some Grana Padano or Parmigiano Reggiano. 
Your 'pasta fresca' with courgettes, spring onion and olives is ready
Buon Appetito!!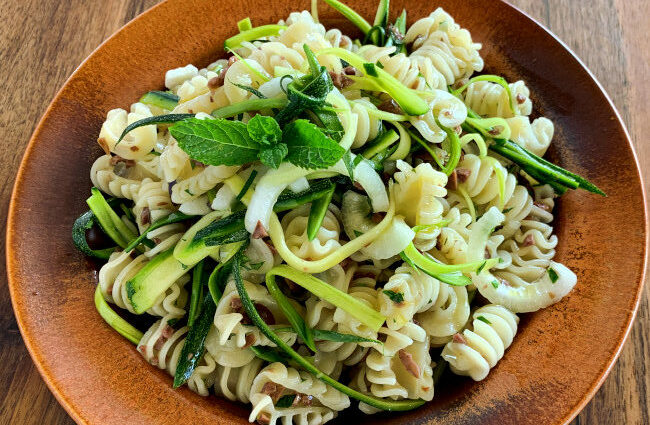 Radiatori salad with Courgettes, Olives and Spring Onion Rawpasta