This recipe uses raw bell peppers, feta, olives, and a cumin vinaigrette dressing; this pasta is colorful and delightful.
Ingredients for 4/5 people
500 gr Fresh Pasta

300 gr Feta
2 bell peppers, any color
150 gr pitted black olives
50gr pickled capers
Rawpasta dried oregano to taste
Pine nuts to taste
Lemon juice to taste
Mustard to taste
Powdered cumin to taste
RawPasta Extra Virgin Olive Oil to taste
Try these pasta shapes:
You can also try 100% semolina pasta, whole-grain pasta or egg pasta.
Method:
Cut the vegetables and feta into thin slices and place in a bowl with some olive oil. Cover the bowl and place it aside. Prepare the vinaigrette by whisking together olive oil, lemon juice, mustard, and cumin, whisk it until it is even and smooth. Cook the pasta in a large pot of salted boiling water, drain it when it is 'al dente' and cool it down with some cold water. Add the pasta to the bowl with the feta and vegetables, add the vinaigrette and mix it all together. Serve with pine nuts and dried oregano. 
Your 'pasta fresca' with feta and bell peppers is ready
Buon Appetito!!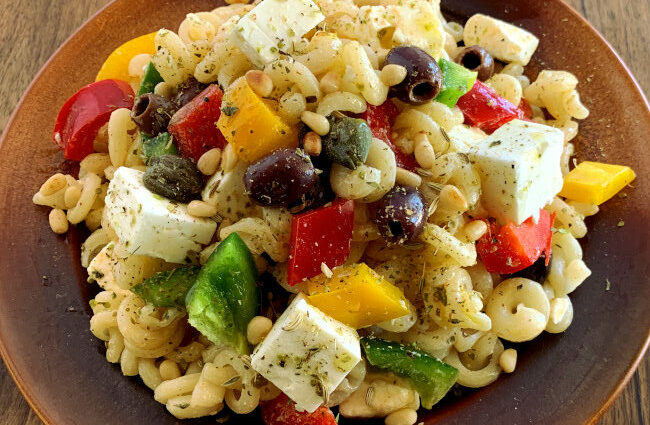 Trottole salad with Feta and Bell Peppers Rawpasta