This particularly pleasant pasta salad recipe is inspired by Mexican Guacamole sauce with the addition of tuna. You can add garlic and chili peppers to your liking to make it spicier, especially if you are enjoying it in summer. 
Ingredients for 4/5 people
500 gr Fresh Pasta

400 gr of canned tuna, packed in water or oil
2 avocados
300 gr cherry tomatoes
Chili peppers to taste
Garlic to taste
Lemon to taste
Pepper to taste
Parsley to taste
Spring onion to taste
RawPasta Extra Virgin Olive Oil to taste
Try these pasta shapes:
You can also try 100% semolina pasta, whole-grain pasta or egg pasta.
Method:
Cut the cherry tomatoes and avocado and place in a bowl with the drained tuna, lemon and olive oil. If you want to, you can also add the garlic and chili peppers. Add salt and pepper and leave the bowl aside. Cook the pasta in a large pot of salted boiling water. Drain it once it is 'al dente' and cool it down with cold water. Add the pasta to the bowl and mix, adding some more extra virgin olive oil. Serve by sprinkling parsley and chopped spring onion on top. 
Your 'pasta fresca' with avocado and tuna is ready
Buon Appetito!!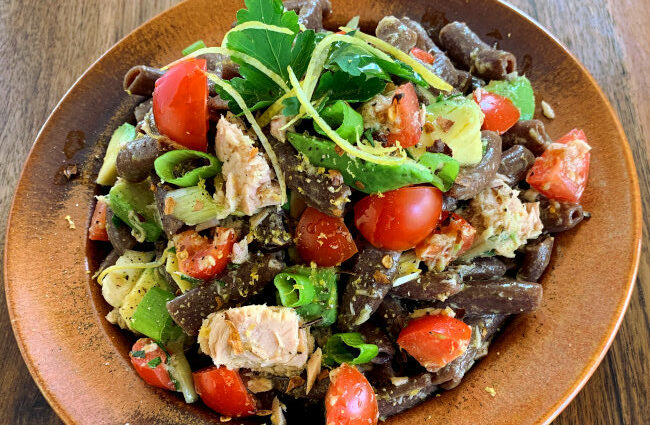 Wholemeal Macaroni salad with Tuna and Avocado Rawpasta