This recipe is typical of Campania. 
This pasta recipe is simple and easy, and it is a richer variant than the classic 'Aglio, olio e peperoncino' (garlic, oil and chili pepper). The addition of breadcrumbs gives it an extra touch that makes the difference. 
Ingredients for 4/5 people
Try these pasta shapes:
You can also try 100% semolina pasta, whole-grain pasta or egg pasta.
Method:
Rub a garlic clove on the stale bread, crumble the bread and toast the breadcrumbs in a pan with some extra virgin olive oil. Place the breadcrumbs aside on a paper towel. In a large pan, cook the garlic clove and anchovy fillets (make sure there are no fishbones) in some extra virgin olive oil. Once the anchovies have melted, add the tomato sauce and cook for 2-3 minutes. Add as much salt and chili powder as you like. 
Cook the pasta in a large pot of salted boiling water until it is 'al dente'.
Sauté the pasta in the pan with the sauce and then serve with breadcrumbs and basil sprinkled on top.
Your 'pasta fresca' with 'Gennaro' sauce is ready.
Buon Appetito!!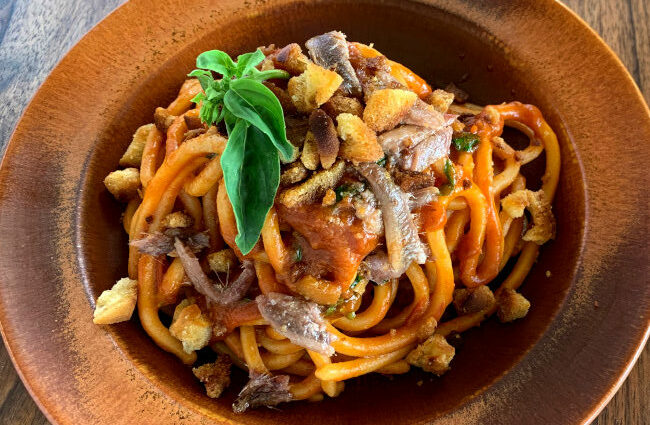 Spaghettoni "alla Gennaro"  Rawpasta