This recipe is ideal at the beginning of spring when the market stalls offer the first asparagus to whet your appetite. 
Ingredients for 4/5 people
500 gr Fresh Pasta

300 gr of fresh asparagus
80 gr of almond slices
80 gr butter
Marjoram to taste
Grana Padano or Parmigiano Reggiano to taste
Try these pasta shapes:
You can also try 100% semolina pasta, whole-grain pasta or egg pasta.
Method:
Clean the asparagus and peel the stalks with a potato peeler. Boil them for 4/5 minutes and then let them cool in cold water with ice. Cut the stalks into pieces and leave the tops whole, leave this aside. In a pan melt the butter and quickly sauté the almonds and then add the chopped marjoram and asparagus. Cook the pasta in a large pot of salted boiling water. Drain it when it is 'al dente' and keep some pasta water aside. Mix the pasta into the pan with the sauce and a few ladles of pasta water to keep on cooking it.
Serve with some grated Grana Padano or Parmigiano Reggiano and a bit of butter.
Your 'pasta fresca' with butter, asparagus and almonds is ready
Buon Appetito!!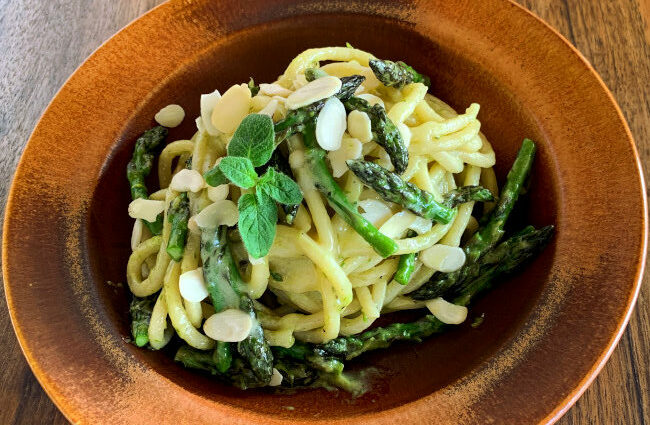 Spaghettoni with Butter, Asparagus and Almond Sauce 
Rawpasta