This is a traditional Austrian recipe from Carinthia. As legend has it, this recipe can scare off vampires and bring the dead back to life. For us commoners, this recipe is comforting and warming and great in winter as well as when served cold in summer.
Ingredients for 4/5 people
400 gr of Fresh Pasta
3/4 heads of garlic
300 gr butter
Meat or vegetable broth
2 cups of fresh cream

 

Buttered breadcrumbs to taste
Black pepper to taste
Chives to taste
Sour cream to taste
Try these pasta shapes:
You can also try 100% semolina pasta, whole-grain pasta or egg pasta.
Method:
Cut the garlic heads into thin slices and cook in a pan on a very low flame in some butter. Once the garlic has softened, add the broth and cream, add salt and pepper. Let it simmer for 30 minutes. Blend the mixture and then bring to boil again and add the pasta. Once the pasta is cooked, serve with some chives, a dollop of sour cream and some breadcrumbs. 
Your Knoblauchsuppe soup with 'Pasta Fresca' is ready.
Buon Appetito!!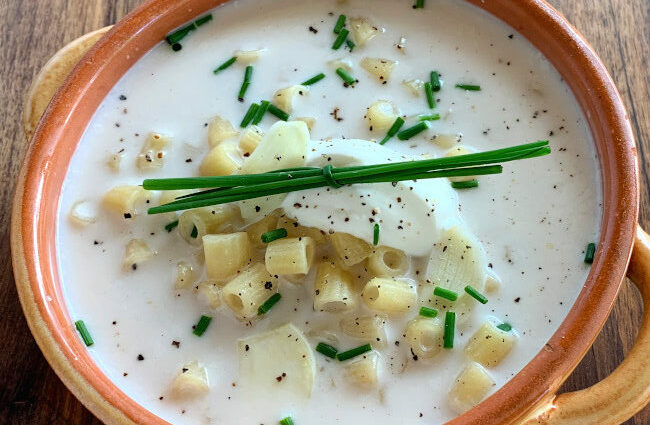 Ditalini in Knoblauchsuppe Soup
Rawpasta