This is a typical recipe from Portofino.
This recipe is a great vegetarian alternative to classic lasagne. This recipe combines the unique taste of our 'Pesto alla Genovese' with the creaminess of bechamel. This lasagne is great cold or heated up the day after preparation, it is an excellent dish for hosting a lunch with friends. 
Ingredients for 4/5 people
500 gr

 

RawPasta 'Sfoglia per Lasagna all'Uovo'

200 gr of RawPasta Pesto Genovese
300 gr Mozzarella Cheese
250 gr Bechamel
 Parmigiano Reggiano or Grana Padano to taste
Butter to taste
Method:
Chop the potatoes and green beans into small pieces and blanch them; after this set them aside to cool down. Preparing pesto lasagna is very similar to preparing classic lasagna. Butter a baking dish and then spread the first layer of bechamel. Begin with the first layer of fresh pasta by covering the surface of the baking dish; you can cut the pasta sheets to fit if needed. Proceed by spreading a layer of pesto with bechamel, potatoes, green beans, and mozzarella, which should be finely shredded. Continue layering all the ingredients in this way until you have at least 4 layers and you have finished your ingredients. Cover everything with a very generous amount of grated Parmigiano Reggiano or Grana Padano. Put in the oven at 180o and cook for 40 minutes. Stop the fan and raise the temperature to 250o for a few minutes. 
Your lasagna with 'pasta fresca' and 'pesto Genovese' is ready.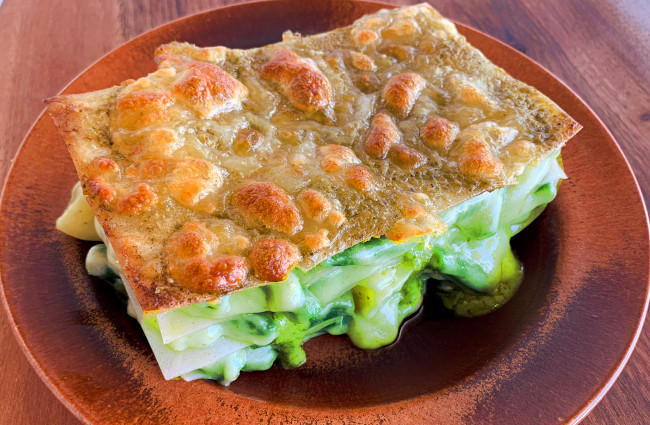 Lasagne "al Pesto Genovese"
 Rawpasta